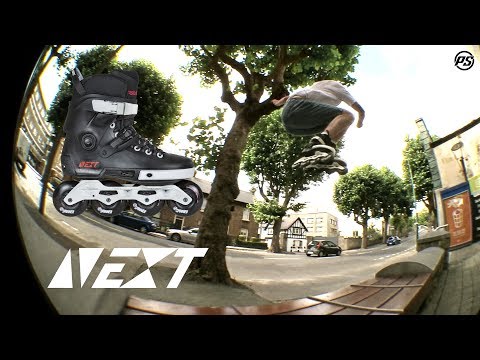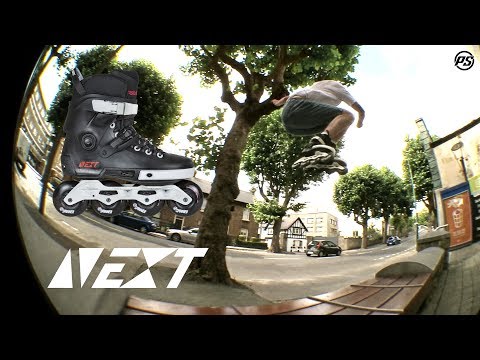 Manufaturer: Powerslide
Art. 908273
Powerslide - Next 80 Inline Skates
pair of skate (2 skates)
tool
instruction
If the ordered goods do not meet your expectations, you have the right to return or exchange them within 14 days of receiving the order.
A product with a physical or legal defect (warranty) can be used to make a complaint within 2 years from the date of purchase.
Costs and shipping methods depend on the total sum of the order and the shipping address - details can be checked here.
Product details
The Powerslide NEXT set new standards in the field of freeskating and urban skating. For the first time in a history, a hardboot has been equipped with innovative Trinity frame mounting. This three point mounting has allowed engineers to lower the center of gravity in a way which was simply not possible before and make whole skate more rigid. Thanks to these qualities, NEXT give you a superior control and energy transfer, on levels which up to this point were limited to more expensive, one-piece boot freeskates.
Powerslide took great care in making the NEXT boot as customizable as possible, allowing you to adjust it to your anatomy and preferences. High laced boot with two buckles holds your feet firmly. Cuff is equipped with canting system allowing for four different positions, which can be used to counter pronation or supination in your ankles, or simply give more or less movement freedom depending on the height. Moreover, both cuff and the shell can be cut along factory made marking lines, to give more flexibility. Front part of the shell is protected by a replaceable plastic strip which covers not only the sides like traditional sliders, but also the tip. Inside the shell you will find a new version of well-known MyFit FatBoy Dual Fit liner, this time made with special Recall padding which adjusts to your anatomy in body temperature. Naturally, the liner can be heat-moulded for better effect, just like previous versions. It is also laced in the upper part, a feature which allows to secure tongue in place.
After a release of successful line of NEXT skates on three wheels, Powerslide have finally made a nod towards traditionalists among freeskaters who prefer 4x80mm setup, which is still, without a shadow of doubt, the most popular one among skaters worldwide. This classic setup is better than ever thanks to advantages of modern boot and Trinity mounting. As a whole, the NEXT 80 are prefect tools for jumping, sliding, urban skating and even as an entry point in to freestyle slalom (just swap outer wheels to 76mm ones). If you were not convinced about triskate versions of NEXT, now you have no excuse – choose NEXT 80 and experience skating in the most innovative hardboot released within past several years.
NEXT is a true revolution in category of hardboots made for urban skating – never before there was a skate so rich in adjustment options and with such low center of balance. NEXT 80 blends old and new to create a unique rolling experience unlike any other.
About manufacturer
Other products of this producer
Powerslide is one of industry's leaders even though it is relatively young company – it has been founded in year 1994. The Germany based brand has entered the market at height of inline skating's popularity, at the time when market was flooded with low quality skates which could be described as toys rather than sport equipment. From the very beginning, Powerslide had one goal: to break the perception of inline skating being a leisure activity for kids and to promote it as a sport for everyone. That's not a surprise considering that company's owner, Matthias Knoll, is a skater himself. As speedskating contender, he breathes this sport and his love for it has been fuelling Powerslide for over 25 years.
If we were to describe Powerslide in three words, these would be: quality, variety and innovation. From the very beginning of company's existence, Germans have challenged industry's giants and competed with them in field of quality. Nowadays they are in lead of the pack when it comes to technology: heatmoldable liners and boots, compressed carbon shells, revolutionary Trinity mounting – these things are relatively fresh and competition is yet to respond. Looking back, Powerslide was the first company to introduce carbon freestyle skate with integrated padding. They were the first company to introduce carbon based aggressive skate. 125mm wheels were introduced to speedskating thanks to them. The introduction of Kizer Advance frame and then Level 2 made a big impact and lead to rapid evolution of aggressive flat frames. Germans were the first company to make triskates a significant part of their offering, starting a new trend. Nowadays, Powerslide are the only company that makes real off-road skates (not to be confused with off-road rollerskis).
This pursuit of change and improvement is unique – no other company in this industry is having a boss willing to take even the craziest of ideas and concepts to production stage. Powerslide also have, without a shadow of doubt, the richest catalogue of products among all skating companies; covering even the most niche equipment made for freestyle slalom, downhill and inline alpine. They have full range of accessories and parts: helmets, protection pads, wheels, bearings, frames and so on. The company is also making rollerskates, providing recreational, roller derby and skatepark models and equipment. It can be safely said that if Powerslide is not making something skating related, chances of other companies having it in their offer are slim to none.
Powerslide have an impressive brand portfolio: MyFit liners, Wicked bearings, Reign hockey skates, USD aggressive skates, Kizer frames, Undercover wheels, Matter wheels, Gawds boots, wheels and softgoods, Prime wheels, Juice rollerskates wheels, Chaya rollerskates, Ennui protection and many others.
What makes Powerslide special are company's people and supporters who create a community around it. Germans support and cooperate with skaters all around the globe. International Powerslide Team is composed of names every inline skating fan should be familiar with and believe us - there are far too many to list them here.
Powerslide - Next 80 Inline Skates
0.0
This product has no reviews yet.
Add first !