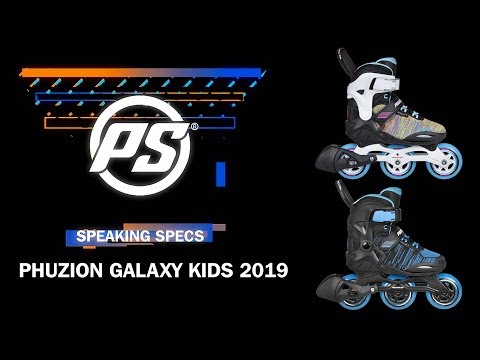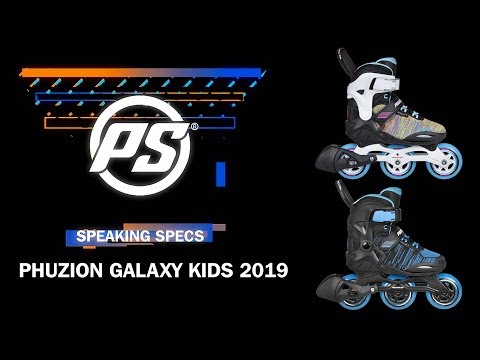 Manufaturer: Powerslide
Art. 940639
Powerslide - Phuzion Galaxy Girls 2019
pair of skate (2 skates)
tools
extra short axle
instruction
If the ordered goods do not meet your expectations, you have the right to return or exchange them within 14 days of receiving the order.
A product with a physical or legal defect (warranty) can be used to make a complaint within 2 years from the date of purchase.
Costs and shipping methods depend on the total sum of the order and the shipping address - details can be checked here.
Product details
Phuzion Galaxy Kids is a fitness triskate for children. It is designed for kids who like sports and enjoy spending long hours on rollerblades. The skate employs various cutting-edge technology solutions which ensure comfort and make learning how to skate easier.
Powerslide brand is a pioneer in developing three wheels skates. This time the solution has been used for kids skates and it happened to be a success. Thanks to using three wheels only instead of four, the skate is truly lightweight. It is a noticeable improvement, especially for kids willing to learn how to skate. Moreover, middle wheel works as a pivot point making the skate easier to handle and maneuver. Better maneuverability means also more fun for kids. In addition to this, three wheels allow using shorter frame — the one that matches the skate size perfectly. There are different wheels diameters and frame lengths depending on the size of the skate to make it as comfortable as possible in every size.
One of the biggest advantages of the Powerslide Phuzion Galaxy Kids skate is its boot construction. It is a fitness product, hence the importance of the comfort, proper ventilation system and reduced weight. With this skate, even the most demanding customers' expectations were met. The upper is made of the powerknit. It is the exact same material which is used by the leading sportswear manufacturers especially is running shoes. It is both comfortable and well ventilated. Moreover, it is really lightweight. Phuzion Galaxy Kids is probably the first skate on the market using this technology. There is a nice comfortable mesh lining inside the skate. All of it is placed within a rigid and durable composite shell reinforced with carbon fiber. You can be sure of the perfect fit and support. The closure consists of a high buckle, a 45 degree Velcro strap and easy to handle for kids lacing system.
This product is made for kids who grow up. That's why there obviously is a size adjustment function. The system is easy to handle and really solid. There's no shaking in the front part no matter the size.
The skate comes with a stiff and rigid aluminum frame. As mentioned before, the frame length depends on the size. It is 198 mm long for sizes 29-32, 212 mm for 33-36 and 231 for 37-40. Wheels diameters are accordingly 80, 84 and 90 mm. The Infinity wheels are made of the high quality PU and are also known from other Powerslide skates. There are fast and precise Wicked ABEC 7 branded bearings in the wheels.
For extra safety, there is a heelbrake attached. It is the HABS which stands for height adjustable brake system. It is an innovative product which allows you to change the angle of the heelbrake when it starts to wear off. Moreover, the skate comes with reflective stickers on both sides of the boot for safe skating after dark.
About manufacturer
Other products of this producer
Powerslide - Phuzion Galaxy Girls 2019
0.0
This product has no reviews yet.
Add first !