+4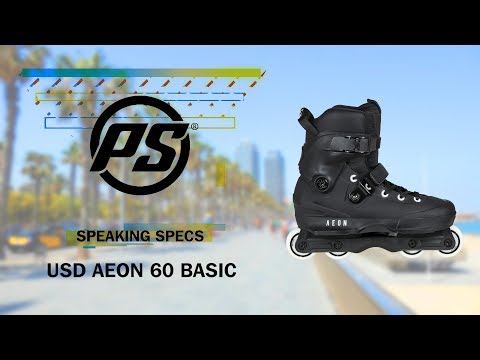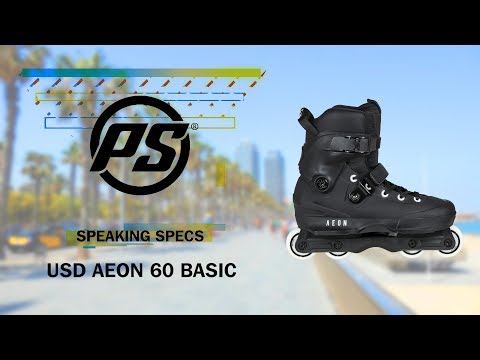 Manufaturer: Usd
Art. 710148
Usd - Aeon 60 Basic
pair of skates (2 skates)

2 schockabsorbs

instruction

tool
If the ordered goods do not meet your expectations, you have the right to return or exchange them within 14 days of receiving the order.
A product with a physical or legal defect (warranty) can be used to make a complaint within 2 years from the date of purchase.
Costs and shipping methods depend on the total sum of the order and the shipping address - details can be checked here.
Product details
USD Aeon are innovative aggressive skates. What makes them unique is the unibody concept. The idea is to reduce the number of bolts and screws by fusing the boot, the frame and soul plates into one piece. The USD Aeon skates come with flat setup (four wheels of the same size).
By creating Aeons, USD brand rejected standards used in skates production. It seems that the experiment was a success because Aeon skates are really popular now, both among professionals and people who want to try aggressive skating for the first time. Unibody concept brings several improvements. First of all, the center of gravity is lowered to minimum. Wheels are literally going to the inside of the shell. It is possible when screws of the frame mounting are no longer there. Additionaly, it lowers the weight of the skate, making it one of the most lightweight on the aggressive skates market. Of course the solution has its drawbacks too — you won't ever be able to change the frame in your Aeon skates. In any case, it does not mean that there are no replaceable parts. You can easily find anything you need, including unibody shell.
No matter which Aeon skates you choose, you can be sure that you are buying good aggressive skates. Every version comes with a very wide soul plate, which makes learning new grinds pure fun. Considering it is a flat setup, there is a surprisingly big groove, too. It allows you to enjoy all the advantages of the flat setup (speed, maneuverability, acceleration, longer lasting wheels) with no fear of getting stuck on any trick. The shock absorber is also worth mentioning. It has tiny flaps on the sides which prevent it from sliding inside the shell.
USD Aeon 60 Basic is exactly what a name suggests. It is the cheapest, basic version among Aeon skates. It comes with a USD Basic liner using a Dual-Size technology, hard (90A) 61 mm wheels and Wicked ABEC 5 bearings. There is a stiff cuff with a buckle and Velcro strap at 45 degree angle for support.
About manufacturer
Other products of this producer
Usd - Aeon 60 Basic
0.0
This product has no reviews yet.
Add first !