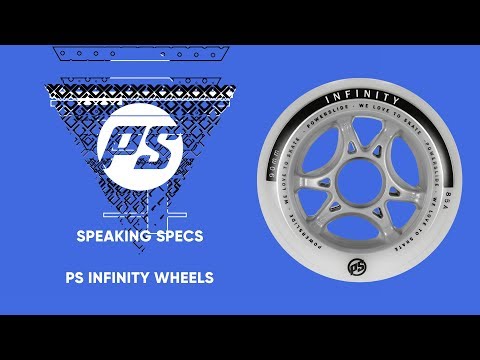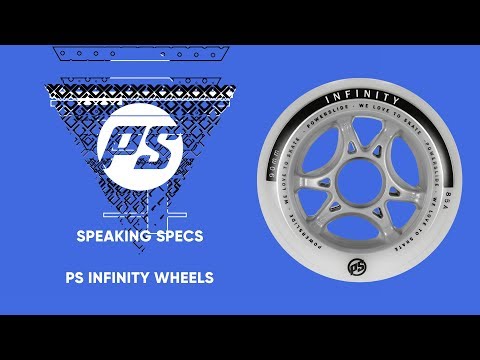 Manufaturer: Powerslide
Art. 905298
Powerslide - Infinity II 125mm/85a (6 pcs.)
If the ordered goods do not meet your expectations, you have the right to return or exchange them within 14 days of receiving the order.
A product with a physical or legal defect (warranty) can be used to make a complaint within 2 years from the date of purchase.
Costs and shipping methods depend on the total sum of the order and the shipping address - details can be checked here.
Product details
category: Fitness
size: 125mm
hardness: 85a
profile: Round (Bullet)
amount of wheels: 6
Powerslide Infinity are mainly fitness skating wheels. They are a great choice for those willing to upgrade their skate and rediscover the pleasure of skating. The wheels are available in most of the popular sizes — 80 mm, 84 mm, 90 mm, 100 mm, 110 mm and 125 mm — so they fit most of the skates.
The hardness of Powerslide Infinity is 85A. It is right in the middle of the spectrum, meaning they are a perfect compromise between speed and grip. If choosing wheel's hardness is a tough call for you, you are probably looking for something close to this one. Thanks to polyurethane used, Infinity wheels are extremely durable. They last long so you can enjoy skating them for a long time before changing to another Infinity wheels setup. Additionally, the wheels provide great rebounce which ensures perfect energy transfer between the wheels and the surface, meaning you can go faster with the same physical effort. The core is durable and it is almost not possible to separate it from the PU, which unfortunately happens too often in some cheap wheels. It is worth saying that the core of the 125 mm wheel is even more advanced. The manufacturer assumed that if someone decides to choose such big wheels (the biggest on the market at the moment, excluding completely different offroad wheels), it is because of seeking the best performance such as top speed and capability to easily keep the velocity for long distances. That is precisely why this core uses high-tech improvements known from racing wheels.
Every wheel is sold as a single piece. Additionally, you can buy 80-110 mm wheels in packs of four and 125 mm wheels in packs of six.
About manufacturer
Other products of this producer
Powerslide is one of industry's leaders even though it is relatively young company – it has been founded in year 1994. The Germany based brand has entered the market at height of inline skating's popularity, at the time when market was flooded with low quality skates which could be described as toys rather than sport equipment. From the very beginning, Powerslide had one goal: to break the perception of inline skating being a leisure activity for kids and to promote it as a sport for everyone. That's not a surprise considering that company's owner, Matthias Knoll, is a skater himself. As speedskating contender, he breathes this sport and his love for it has been fuelling Powerslide for over 25 years.
If we were to describe Powerslide in three words, these would be: quality, variety and innovation. From the very beginning of company's existence, Germans have challenged industry's giants and competed with them in field of quality. Nowadays they are in lead of the pack when it comes to technology: heatmoldable liners and boots, compressed carbon shells, revolutionary Trinity mounting – these things are relatively fresh and competition is yet to respond. Looking back, Powerslide was the first company to introduce carbon freestyle skate with integrated padding. They were the first company to introduce carbon based aggressive skate. 125mm wheels were introduced to speedskating thanks to them. The introduction of Kizer Advance frame and then Level 2 made a big impact and lead to rapid evolution of aggressive flat frames. Germans were the first company to make triskates a significant part of their offering, starting a new trend. Nowadays, Powerslide are the only company that makes real off-road skates (not to be confused with off-road rollerskis).
This pursuit of change and improvement is unique – no other company in this industry is having a boss willing to take even the craziest of ideas and concepts to production stage. Powerslide also have, without a shadow of doubt, the richest catalogue of products among all skating companies; covering even the most niche equipment made for freestyle slalom, downhill and inline alpine. They have full range of accessories and parts: helmets, protection pads, wheels, bearings, frames and so on. The company is also making rollerskates, providing recreational, roller derby and skatepark models and equipment. It can be safely said that if Powerslide is not making something skating related, chances of other companies having it in their offer are slim to none.
Powerslide have an impressive brand portfolio: MyFit liners, Wicked bearings, Reign hockey skates, USD aggressive skates, Kizer frames, Undercover wheels, Matter wheels, Gawds boots, wheels and softgoods, Prime wheels, Juice rollerskates wheels, Chaya rollerskates, Ennui protection and many others.
What makes Powerslide special are company's people and supporters who create a community around it. Germans support and cooperate with skaters all around the globe. International Powerslide Team is composed of names every inline skating fan should be familiar with and believe us - there are far too many to list them here.
Powerslide - Infinity II 125mm/85a (6 pcs.)
0.0
This product has no reviews yet.
Add first !