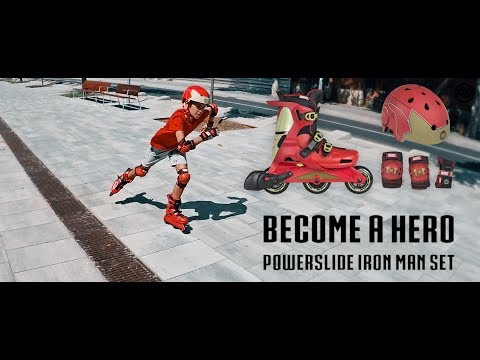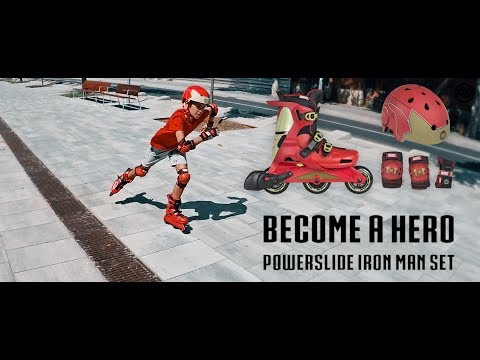 Manufaturer: Powerslide
Art. 910728
Powerslide - Iron Man Wave
BECOME A HERO!
<iframe width="1141" height="642" src="https://www.youtube.com/embed/dddBRwWPzZg" frameborder="0" allow="accelerometer; autoplay; encrypted-media; gyroscope; picture-in-picture" allowfullscreen></iframe>
Model Iron Man wave marki Powerslide dla wielu dzieci jest spełnieniem marzeń, bo przecież który z chłopaków w dzieciństwie nie chce być super bohaterem? Już na pierwszy rzut oka, wiadomo czyj wizerunek znajduje się na rolce!
"Mamo on ma rolki z Iron Manem, też takie chce, proszę!" - takich reakcji można się spodziewać, kiedy twoje dziecko zobaczy kogoś jeżdżącego w tych rolkach!
Każdy wie, że mięśnie i ścięgna u dzieci nie są jeszcze tak rozbudowane i silne jak u dorosłych, dlatego zastosowano solidną, plastikową konstrukcje "unibody" czyli konstrukcja (but i szyna) stanowi jeden element, dzięki czemu nie musimy martwić się, że podczas jazdy któraś ze śrub mocujących się poluzuje, a dziecko bez strachu może cieszyć się jazdą. Co ważniejsze konstrukcja sprawia, że dziecko czuje się stabilnie i pewnie - pozostaje tylko cieszyć się jazdą.
W rolce wykorzystano wersje szyny z 3 kołami (dodatkowo środkowe koło ma wbudowane ledy, które gdy się ściemni świecą na biało) dzięki czemu nauka czy samo poruszanie się jest łatwiejsze, rolka jest dużo bardziej zwrotna (krótszy promień skrętu).
Średnica kół zwiększa się z rozmiarem rolki:
31-34 - 80mm
35-38 - 84mm
38-41 - 90mm
But posiada łatwy system zapinania i odpinania - 3 klamry z szybkim i precyzyjnym dopinaniem co do milimetra sprawi, że twoja pociecha nie będzie miała problemu z samodzielnym założeniem czy ściągnięciem rolek - tutaj wystarczy tylko zwolnić klamrę jednym naciśnięciem i wyciągnąć pasek z receptora. Co ważne, zadbano również o kwestie higieny, ponieważ wewnetrzną skarpetę można w bardzo łatwy sposób wyciągnąć, osuszyć po jeździe czy zaaplikować specyfik utrzymujący świezy zapach w wewnątrz. Rolka w zestawie posiada hamulec.
WAŻNE: zalecamy, aby podczas jazdy mieć na głowie kask, ochraniacze na nadgarstki, kolana i łokcie.
WE LOVE TO SKATE
If the ordered goods do not meet your expectations, you have the right to return or exchange them within 14 days of receiving the order.
A product with a physical or legal defect (warranty) can be used to make a complaint within 2 years from the date of purchase.
Costs and shipping methods depend on the total sum of the order and the shipping address - details can be checked here.
Product details
Category: Recreation & fitness for kids
Model: Iron Man Wave
Shell: Hardboot (stiffer and stronger), 4 sizes adjustable
Buckle: adjustable

Lining: Neoprene, Micromesh
Frame: Composite, integrated
Wheels: Powerslide - One 85a
sizes 31-34: 80mm
sizes 35-38: 84mm
sizes 39-41: 90mm
Bearings: Wicked - Abec 5
Axles: 8mm
Brake: in set
LED Tube
About manufacturer
Other products of this producer
Powerslide is one of industry's leaders even though it is relatively young company – it has been founded in year 1994. The Germany based brand has entered the market at height of inline skating's popularity, at the time when market was flooded with low quality skates which could be described as toys rather than sport equipment. From the very beginning, Powerslide had one goal: to break the perception of inline skating being a leisure activity for kids and to promote it as a sport for everyone. That's not a surprise considering that company's owner, Matthias Knoll, is a skater himself. As speedskating contender, he breathes this sport and his love for it has been fuelling Powerslide for over 25 years.
If we were to describe Powerslide in three words, these would be: quality, variety and innovation. From the very beginning of company's existence, Germans have challenged industry's giants and competed with them in field of quality. Nowadays they are in lead of the pack when it comes to technology: heatmoldable liners and boots, compressed carbon shells, revolutionary Trinity mounting – these things are relatively fresh and competition is yet to respond. Looking back, Powerslide was the first company to introduce carbon freestyle skate with integrated padding. They were the first company to introduce carbon based aggressive skate. 125mm wheels were introduced to speedskating thanks to them. The introduction of Kizer Advance frame and then Level 2 made a big impact and lead to rapid evolution of aggressive flat frames. Germans were the first company to make triskates a significant part of their offering, starting a new trend. Nowadays, Powerslide are the only company that makes real off-road skates (not to be confused with off-road rollerskis).
This pursuit of change and improvement is unique – no other company in this industry is having a boss willing to take even the craziest of ideas and concepts to production stage. Powerslide also have, without a shadow of doubt, the richest catalogue of products among all skating companies; covering even the most niche equipment made for freestyle slalom, downhill and inline alpine. They have full range of accessories and parts: helmets, protection pads, wheels, bearings, frames and so on. The company is also making rollerskates, providing recreational, roller derby and skatepark models and equipment. It can be safely said that if Powerslide is not making something skating related, chances of other companies having it in their offer are slim to none.
Powerslide have an impressive brand portfolio: MyFit liners, Wicked bearings, Reign hockey skates, USD aggressive skates, Kizer frames, Undercover wheels, Matter wheels, Gawds boots, wheels and softgoods, Prime wheels, Juice rollerskates wheels, Chaya rollerskates, Ennui protection and many others.
What makes Powerslide special are company's people and supporters who create a community around it. Germans support and cooperate with skaters all around the globe. International Powerslide Team is composed of names every inline skating fan should be familiar with and believe us - there are far too many to list them here.
Powerslide - Iron Man Wave
0.0
This product has no reviews yet.
Add first !