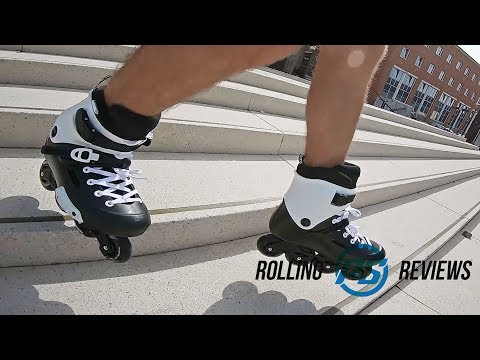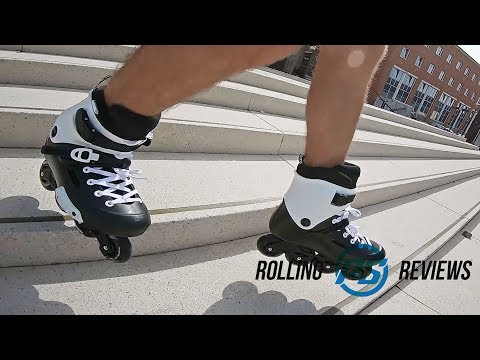 Manufaturer: Powerslide
Art. 880237
Powerslide - Zoom 80 - Black
1 pair of skates (2 skates)
tool
instruction
If the ordered goods do not meet your expectations, you have the right to return or exchange them within 14 days of receiving the order.
A product with a physical or legal defect (warranty) can be used to make a complaint within 2 years from the date of purchase.
Costs and shipping methods depend on the total sum of the order and the shipping address - details can be checked here.
Product details
If you thought that Powerslide said their final word in terms of hardboots based on Trinity mounting with release of NEXT, you are in for a surprise. The brand follows up with new ZOOM skates, which surely will make some noise in lower price bracket segment of freeskates market.
ZOOM's story has started with a desire to create a new shell to replace the one used in low price Powerslide One freeskates (Bronx line) and in aggressive model USD Sway. It soon became evident that new boot exceeded expectations and is also a viable choice for higher class equipment. Designers created a Trinity mounting adapter for new shell and started extensive testing. After months of tweaking and adjusting, ZOOM came to be.
Even though the boot uses a separate adapter to make it compatible with Trinity mounting, a majority of benefits this system brings is transferred to new skates. Three mounting points allowed engineers to lower the centre of gravity, make energy transfer more efficient and provide easier control of the skate. The shell is rigid and long lasting thanks to glass fibre reinforced plastic used for production. Much like in case of NEXT skates, the boot does have high lacing and is secured with two buckles. Outside of the boot is protected with large, replaceable slider. Inside of the shell sits a MyFit Basic dual liner with EVA insole – it ensures a high level of comfort without raising a price of the whole skate. Thanks to possibility to heat-mould it, the liner is one of strong points of ZOOM skates. No other skate in this price bracket offers such great fit customization.

ZOOM 80 are equipped with Elite casted frame of 243mm length. It fits four Hurricane 80mm wheels with Wicked ABEC7 bearings – a setup aimed at people who value proven solutions. This configuration makes a great fit for city skating and will allow to implement freestyle elements in to your ride. If you exchange outer wheels for 76mm ones, it is even possible to start playing with freestyle slalom using this setup. Last but not least, the boot is compatible with all Trinity frames, even the off-road ones – this opens up a path for potential upgrade in the future for those who like to tinker with their skates.
ZOOM 80 are not just a lower-end budget skates. They are, as a whole, much more than a simple sum of their parts. Powerslide has cut costs wisely when creating cheaper sibling of NEXT and while it can be easily spotted in which areas compromises were made, ZOOM skate so good that it is hard to believe they are a budget offering. Smart design has resulted in skates that offer a wide range of possibilities and will satisfy newcomers and experienced skaters alike. It can be said that ZOOM 80 took over the mantle of now discounted Metropolis 80 model, being - just like their predecessor - a quality offering capable of punching above its weight and compete with more expensive skates. We recommend ZOOM 80 to anyone who is looking for a modern, solid pair of freeskates at affordable price.
About manufacturer
Other products of this producer
Powerslide - Zoom 80 - Black
0.0
This product has no reviews yet.
Add first !