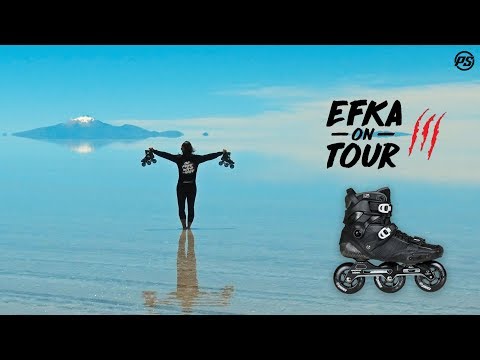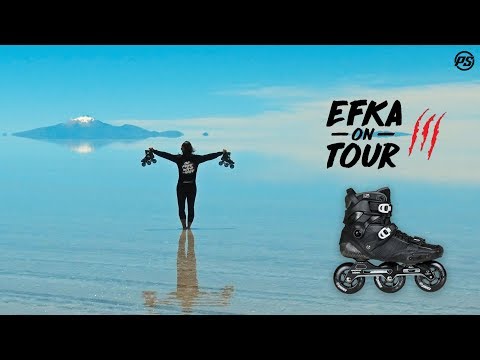 Manufaturer: Powerslide
Art. 908277
Powerslide - Hardcore Evo Trinity
pair of skates (2 skates)
tool
instruction
Product details
Hardcore Evo is a line of skates that can be compared to premium sports cars line – in which every next model is a further step forward in terms of quality comfort and feeling of the ride, but never loses focus and character of its predecessors.
The story of Hardcore Evo has begun 10 years ago – it was year 2009 when the very first version has reached shops worldwide. In their day, these were nothing but a revolutionary skate – even though Powerslide tinkered with integrated padding concept in skates dedicated for freestyle before (S3 Skali for example), the HC Evo were the very first to use carbon fibre, heat-mouldable shell. This idea was so good that competition soon followed and started to make similar skates. In the meantime, Powerslide doubled on the work and started to polish their flagship skate to perfection, introducing major changes almost every single year, bringing the Hardcore Evo closer to perfection.
Ten years passed and Hardcore Evo Trinity 2019 hit the market. It can be seen at first glance that not much has been changed since 2018, but for a good reason – you cannot expect an earthquake after a major revision happened a year before.
It should be said that it was a 2018 model that received an upgrade to Trinity mounting. Now three points connect the frame to the boot, instead of usual two. Because from screw in line with wheels was replaced with two screws place on the sides, the centre of gravity could be lowered, which results in easier control over skates. Two mounting points at the front create a solid platform to stand on, enhancing stability and responsiveness. Increased precision is something that will be welcomed by newcomers and experienced skaters alike.
If we were to pick the most sophisticated and technologically advanced boots in Powerslide skates, Hardcore Evo 2019 would place on the podium right next to specialised speedskating models. The skates are fully heatmouldable – not only the shells, but also padding. Thanks to it, you can achieve perfect fit, comfort and control without extended break-in period and eliminate pressure points. Even the boot tongue is special – it has been made with cuts that allow it to adjust to your anatomy better and in turn, securing your heel in place as best as possible. The heel position is raised to a level that makes tricks performed in sitting and low stance easier. The skin is rigid and equipped with lacing system similar to one used in many hockey skates, making the whole wrapping around your foot better. Hardcore Evo are first and foremost freestyle slalom skates – but designers have not forgotten slide enthusiasts, including replaceable sliders on the sides as well as additional toe area protection.
The second major change in HC Evo 2018, compared to older models, was a switch to triskate frame with 90mm wheels. Gone is four-wheeled "banana" rocker frame – it was replaced by lighter, faster and more manoeuvrable setup. Last year's Katana frame was given a treatment to cut down on weight and in turn, Nexus frame was born – a simpler, lighter version. Nonetheless, nothing was sacrificed in terms of rigidity and durability. The frame comes with rockering system – you can change a position of two wheels in frame to have front wheel 2mm above the ground, increasing agility even further. Moreover, the frame length is tweaked to your boot size – there are three different lengths, making sure that whole setup is adjusted to user's anatomy.
The skate comes with Undercover 90mm wheels of 86A hardness. These wheels are made in USA and without a shadow of doubt, are one of the best wheels made for freestyle, offering perfect grip, durability and speed. It is a notable upgrade compared to Spinner wheels found in 2018 version – a set of decent stock wheels was replaced by some best-in-class ones. The best part? The price of the whole skate has not increased, at all! Bearings are the same as in 2018 – Wicked ILQ9 Classic. It is a solid choice for anyone, from total beginners to experienced skaters taking part in major competitions.
If you are looking for a pair of freestyle skates that are far ahead of competition in terms of technology and quality, almost seeming like they came from the future – the choice is easy. It's impossible to talk about Hardcore Evo Trinity 2019 without sounding overly optimistic, but Powerslide have earned it – they created these skates without any compromises, delivering precise tool made with one goal in mind: breaking skater's barriers and winning. It's hard to imagine a better celebration of 10th anniversary.
length of frames and size wheels:

EU36-38 = 205mm/3x84mm
EU39-41 = 215mm/3x90mm
EU42-44 = 225mm/3x90mm
EU45-46 = 235mm/3x90mm

axles:

double (rockeringable) axles 8mm
single AL axles
About manufacturer
Other products of this producer
Powerslide - Hardcore Evo Trinity
0.0
This product has no reviews yet.
Add first !